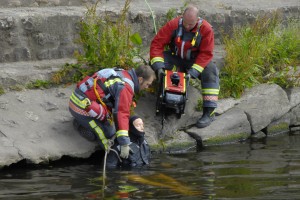 Until now remote operated technology has been used to recover drowning victims, not rescue. If the victim can be rescued from the water within 90 minutes there is a good chance that the residual oxygen in their body will keep them alive without permanent damage to vital organs.
The UK Fire & Rescue has the ability to be on location in response to an emergency in under 10 minutes but they cannot work under water. They have to wait for divers meaning very low probability of saving the victim. Derbyshire Fire & Rescue approached SeaBotix Inc. to develop a solution for the more than 700 yearly drowning incidents.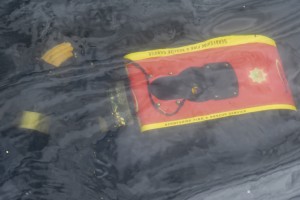 The requirement was a rescue system that would be fast to deploy, capable of operating in near zero visibility, in poor weather and strong currents, while still being simple enough to operate by rescue personnel. The result is a system with a high definition imaging sonar, a limb grasping manipulator, the LYYN real-time video enhancement and a small diameter, low drag tether with a 100kg working load.
Upon receiving a call, rescue personnel can set up and deploy at the last seen location of the drowning victim. Utilizing the imaging sonar, the victim is located and the SARbot™ is navigated to within grasping range. For conditions where visibility is near zero, external ultra bright LED lights and LYYN real-time video enhancement are utilized. Upon locating the victim, the specially designed grasping jaws attach to an arm or leg and the SARbot™ is pulled back to the shore using it's ultra strong tether.
"At a recent incident the SARbot was committed to a river search where a car had crashed. The visibility in the river was incredibly poor, at best about 6 inches. With the vehicle quickly found using sonar the use of LYYN video enhancement enabled the search crew to navigate around the vehicle and confirm the location of the casualty. Without the LYYN this task would have been near impossible and time consuming. The LYYN is a critical element of the SARbot system that allows visibility in the poorest of conditions."

Duncan Winsbury,
Derbyshire Fire & Rescue