Two of LYYN® founders, Anders and Olle Holm, have for many years been involved in image research in the medical (ophthalmology) area.
Professor Olle Holm, MD, presented his photogrammetry PhD thesis already in 1968 together with the Royal Institute of Technology in Stockholm, Sweden. He later worked as an associate professor of ophthalmology in St Louis and Malmö, continuing with digital imaging (when such became practical around 1989). Several publications (Acta Ophthalmologica), also together with Anders Holm (1990), Dr Tech, dealt with image enhancement techniques of photographs of the inside of the eye.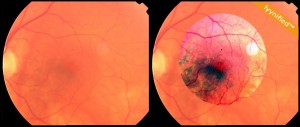 Photographs of the retina of the eye (fundus photos) are important diagnostic tools when dealing with diabetes, age-related macular degeneration and glaucoma. Unfortunately, because of the richness of blood in the retina, it can sometimes be difficult to detect critical details.
To facilitate detail detection, they developed digital processing techniques to bring forth important and critical pathological details, like small vessels and areas with leaking blood. When seeing this, diagnosis can easier be given.
When it became clear that similar type of enhancement techniques could be successfully applied outside of ophthalmology LYYN® was formed, in 2003. The company is situated in Lund, Sweden.
The real key to the technology is the deep understanding of the insufficiencies of the brain in interpreting what the eye actually sees. So by enhancing the image you get a Visibility Enhancement. And this can now be done in real-time video with products from LYYN®.