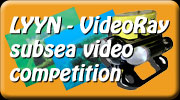 ROV Info is proud to announce a quarterly video competition sponsored by VideoRay and LYYN.
The rules are pretty simple:
1. You take video of something interesting with your ROV.
2. Edit it as you see fit, keeping things in good taste and entertaining.
3. Post it to YouTube and then put a link to it on the Video Competition Discussion on ROV Info.
4. Supply the following information along with the link: Make and model of the ROV, Date and location of the dive along with a short narrative of the video. You'll also have to supply your name and contact information.
5. You can enter as many video's as you want, but can only win one quarter a year. If you win in say the first quarter, but have a better video in the third quarter, as long as it receives an honorable mention, it will be eligible for the Video of the Year Award.
6. Try to keep the video's less than 4 minutes. We don't want to make it a hard and fast rule, but in all reality you will start losing the judge's attention (and everyone else's) around then.
7. The Judge's decisions are final.
8. We may modify the rules as we go along due to various reasons (usually someone doing something we feel is pretty stupid, but didn't cover in the rules). If we do, we'll post them here and you can decide if you want to continue to participate or not.

What's in it for you:
1. If your video is chosen by the judges as the video of the quarter we'll supply you with a copy of Power Director 8 (or most recent release) so that you can continue your creative video editing.
2. VideoRay and LYYN will also run a link to your video on their respective websites along with a news release telling the sub-sea world that you have won the quarterly competition.
3. All video's submitted will be judged by our distinguished panel. If your video is beaten out, but a majority feels your video is very good, they will give it an honorable mention. The quarterly winner and all honorable mentions will be given a coveted "Underwater Film Specialist" t-shirt.
4. Two Video of the Year Awards will be given out. The first will be for LYYNIFIED Video's and the other is un-LYYNified. Though the prize's for those winners hasn't been finalized, you know both companies tend to do things over the top.
Who isn't eligible to win (but can still post interesting video's and try to get one of the coveted "Underwater Film Specialist" Shirt):
1. Employee's (and family members) of the sponsoring companies.
2. Moderators of ROV Info and Judges.
3. Anyone that isn't in good standing on ROV Info.