There are many visibility problems caused by snow, mainly because of snowflakes or droplets in the air. Especially since the low weight of snowflakes make them sensitive to the slightest of winds. With strong winds, like in blizzards, visibility can come down to almost nothing.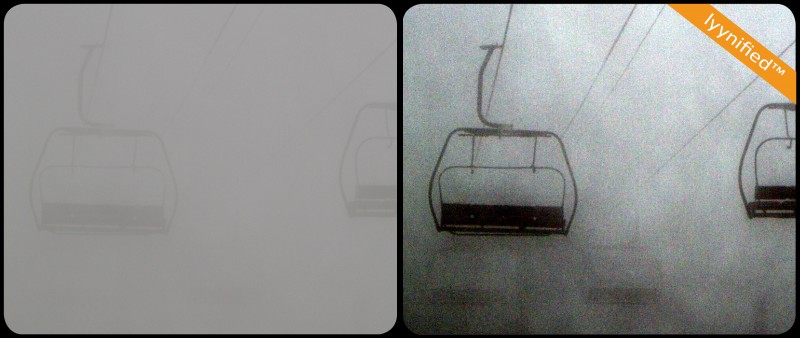 Ski lift in fog and snow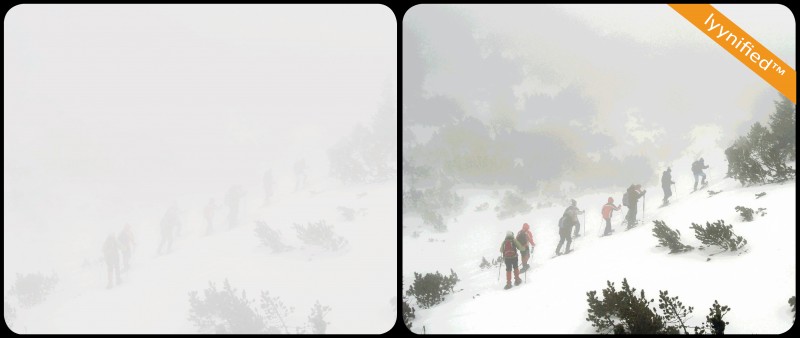 Skiers in snow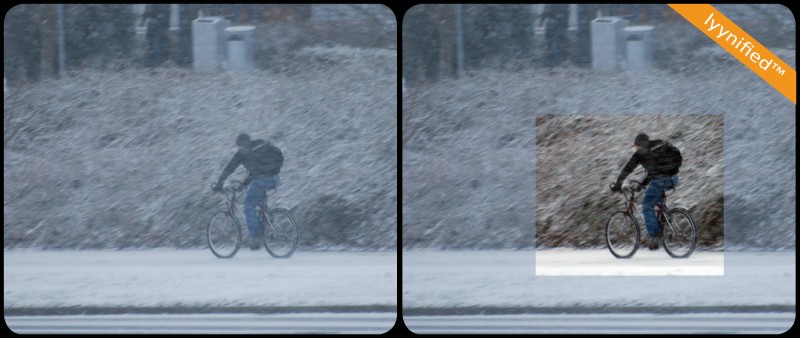 Bicycle in snow storm, outside LYYN office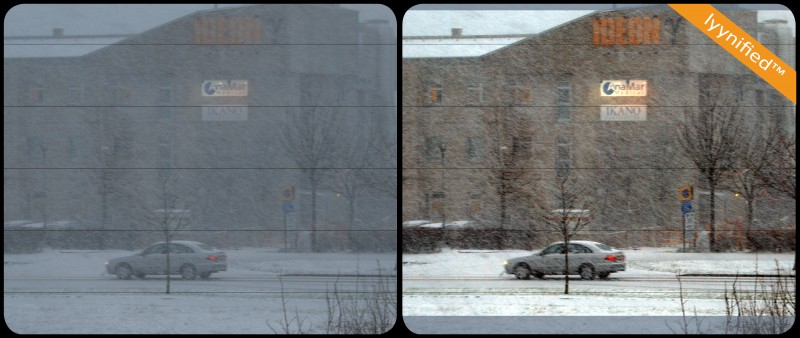 Ideon in snow, outside LYYN office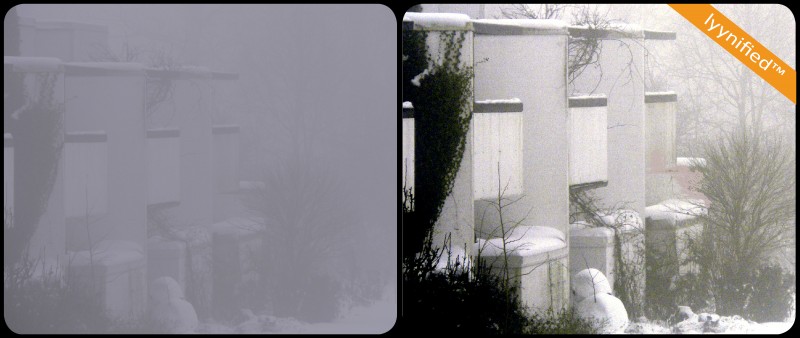 House in snow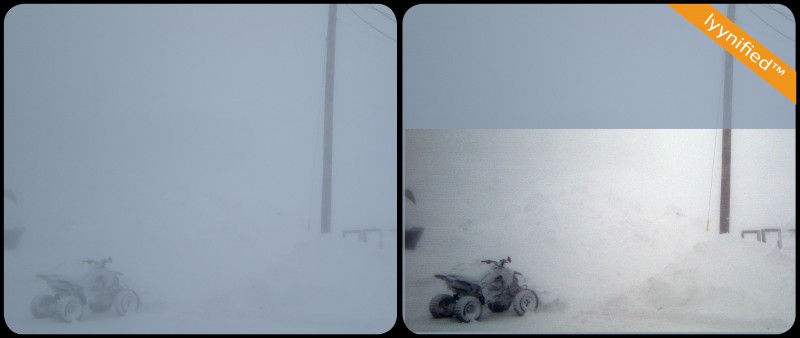 Blizzard
Meteorological definitions
Blizzards are defined as winter storms with sustained or gusting winds of 35 mph (56 km/h) that produce blowing or drifting snow that reduces visibility to one-quarter mile or less for over three hours. While this is the technical definition of the word, for most people any sustained accompanied by fierce winds is considered a blizzard. Blizzards are often, but not always, accompanied by extremely cold temperatures.
According to Environment Canada, a winter storm must have winds of 40 km/h (25 mph) or more, have snow or blowing snow, visibility less than 500 ft (about 1⁄10 mile), a wind chill of less than −25 °C (−15 °F), and that all of these conditions must last for 3 hours or more before the storm can be properly called a blizzard.
In the United States, the National Weather Service defines a blizzard as sustained 35mph (56 km/h) winds which lead to blowing snow and cause visibilities of 500ft or less, lasting for at least 3 hours. Temperature is not taken into consideration when issuing a blizzard warning, but the nature of these storms is such that cold air is often present when the other criteria are met.Temperatures are generally below 0 °C (32 °F).
Many European countries, such as the UK, have a lower threshold: the Met Office defines a blizzard as "moderate or heavy snow" combined with a mean wind speed of 30 mph (48 km/h) and visibility below 650 feet (200 m).
When there are blizzard conditions but no snow falling, meteorologists call this a ground blizzard because all the snow is already present at the surface of the earth and is simply being blown by high winds. Ground blizzards require large expanses of open and relatively flat land with a sufficient amount of accumulated and loosely packed, powdery snow to be blown around.
Whiteout
Although the word is commonly used to describe heavy snow and high winds, this is not a true "whiteout". Real "whiteouts" occur mostly in the Arctic and Antarctic during the spring, when snow is still deep on the ground and there is lots of daylight and surprisingly calm weather and excellent visibility.
Whiteouts occur when rays of sunlight are bounced in all directions between bright white clouds, especially a thin layer of overcast and bright snow or ice. Clean snow and ice reflects nearly 85% of incoming light. Falling snowflakes, suspended fog droplets or ice particles in the air would make conditions even worse. In a true whiteout, neither shadows, nearby objects, landmarks, nor are clouds discernible. All sense of direction, depth perception and even of balance may be lost. Land and sky seem to blend, and the horizon disappears into a white nothingness. Whiteouts trick pilots and travelers into believing down is up and thinking far is near.
During mountainous snowfall
A similar though distinct phenomenon may occur in mountainous areas during heavy snowfall combined with being inside a cloud, when one can't see depth or distance. When encountered by skiers, these conditions are challenging and dangerous, and extreme caution must be used in order to remain on the slope and avoid accidents. Depending on the intensity of the snowfall, visibility may be reduced to several meters; in less severe storms, such as the one pictured here, distinct objects can be seen even at a distance, but depth and distance are almost impossible to determine, since the snow on the ground and in the air make it impossible to see clearly.